The Story Behind MAX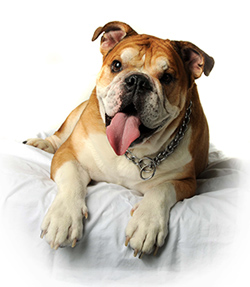 Over two years ago, FOCUS Bank developed a marketing campaign to promote its high interest, reward checking account known as MAXimum Free Checking. While discussing ideas to promote the product, the President and CEO of FOCUS Bank, Don Burnett, mentioned using an "ugly" dog to help attract attention through billboards, television spots and newspaper ads. Jeff Barker, FOCUS Bank CFO, knew just the dog for the job, his family pet.
According to Debi Barker, Jeff's wife, "MAX, a.k.a. Oscar, is a seven year old English Bulldog with a face only a mother could love," Barker said.
This incessant slobbering family pet, bought for Barkers' youngest son, Ben, 16th birthday, is an extremely pampered pooch weighing in at a healthy 75 lbs. Oscar obviously enjoys eating and sleeping, but most especially he enjoys aggravating the family cat, Baloo.
As the famous saying goes – "You take the good, you take the bad"…well that's what the Barker's have done with Oscar. Unfortunately, he suffers from numerous food allergies, and therefore; he requires a special diet consisting of duck, venison and potato and gets weekly allergy shots. In order to prep for his television appearances, Oscar undergoes steroid shots to ensure his skin and silky coat are camera-ready. But don't feel too bad for Oscar because he thoroughly enjoys the constant words of praise, chin scratches, and most importantly the "cookies" he receives when filming.