Business Money Market
Get the best of both worlds with this flexible account — earn competitive interest rates and enjoy the convenience of check writing.
With our tiered structure, your rates increase as your balance grows to give you maximum earnings potential. Plus, our free convenience services will save you time that can be better spent growing your business.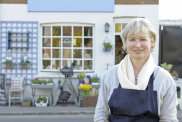 Summary

Competitive interest with 4 tiers
$1,000 opening deposit
$1,000 minimum balance
Free online banking
Free mobile banking
Free eStatements
Pre-authorized withdrawals limited to 6 per month*
Avoid a $5 monthly service charge by maintaining your balance above $1,000




* Pre-authorized withdrawals are limited to 6 per month, of which only 3 may be checks. A $5 per item charge will result for exceeding the limit of checks or transfers to a third party.