Mobile Banking
Manage your accounts from anywhere -- it's like having a bank teller with you all the time.
Now you can do your banking from anywhere with your mobile device! Manage your accounts and receive alerts about your account activity, all from your phone, blackberry, or other
internet-enabled device. It's easy to use and totally secure.
Mobile banking delivers the information you need, when
you need it.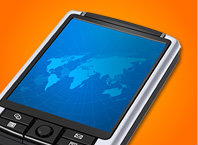 Summary

Mobile banking is the ultimate on-demand service. Use it to:

View your current account balances

Monitor the most recent transactions

Transfer funds between accounts

Receive alerts sent to your phone

Please note:

Not all phone or cells plans are compatible; please check with your service plan provider or cell phone carrier. FOCUS Bank does not charge for mobile banking service. However, depending on your rate plan with your service provider/cell phone carrier, you may incur charges when accessing the internet or receiving text messages regarding mobile banking or alerts. If you are unsure that you have a data plan, internet access, text messaging or are having difficulty accessing the site, contact your service provider/cell phone carrier.

Enrollment & Security

Mobile banking delivers the highest level of security, thanks to multiple layers of authentication. This includes a personal PIN number that only you know, and a ONE TIME PASSWORD that changes each time you log on. This ensures your information is fully protected.

To enroll, simply log onto Internet Banking, click the OPTIONS menu, and choose MOBILE BANKING ENROLLMENT. Please use the last four digits of your SSN (Social Security Number) as your Mobile Banking password/PIN. In addition, most AT&T customers will need to select Cingular as the carrier and NOT AT&T. If you do not receive 2 text messages within a few minutes of completing the enrollment process, please return to the enrollment screen and double check your password/PIN and carrier information.

Once enrollment is successful, you will receive 2 text messages. These messages will contain your link to log into mobile banking, as well as, your OTP (One Time Password). If you delete these text messages, you may access mobile banking by going to http://focusbank.mobi where you can request another OTP (One Time Password).