MoneyIsland
We believe that good financial habits are part of a solid foundation for life — and what a better time to start learning than childhood! Discover MoneyIsland, a free, multi-level online game where kids learn valuable financial skills as they navigate through a fun-filled globetrotting adventure and earn real-life prizes! It's an excellent activity for the whole family, and it's a great tool in the classroom, too. Best of all, it's free!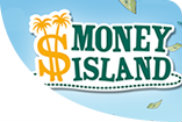 Summary

Free, multi-level online game
Designed for kids ages 8 to 14
Developed by an award-winning teacher
Teaches valuable financial skills
Kids earn cool real life rewards as they learn
Play-along passport and stickers to track their progress
Parents and teachers can play along
Meets national standards for financial literacy




Learn more and play a demo on our MoneyIsland site.